Irvine Secure Shred
Irvine Secure Shred will get you cost-effective shredding service options for your private business and personal documents. We understand the desire to protect your private papers, and for every organization to meet California and federal privacy regulations. We will help you find the most secure, reliable paper shredding service to meet your needs.

About Irvine Secure Shred
Irvine Secure Shred conveniently offers several flexible shredding service options to suit the needs of California homes and businesses:

Irvine Secure Shred offers flexible shredding service options to Irvine and the greater California area. No matter the size of the job, we're here to help keep you secure and compliant with affordable shredding services.

Should my Business Have a Document Retention Program?It's a wise practice for businesses to come up with a solid strategy for retaining important documents for an appropriate period of time. This helps protect your business from litigation, and in many cases is required by California and federal law.

Whether you are a business or a household, Irvine Secure Shred has local contractors who will come to you and shred your materials at your location or at a secure shredding facility. They take care of sending your shredded materials directly to be recycled so that you don't have to worry about the potential liability of them being put back together.
Interested in protecting the private information f your home or business with shredding services? Irvine Secure Shred has a number of paper shredding options that can meet your needs. Fill out the form at the top or give us a call at (949) 309-2917 to get started.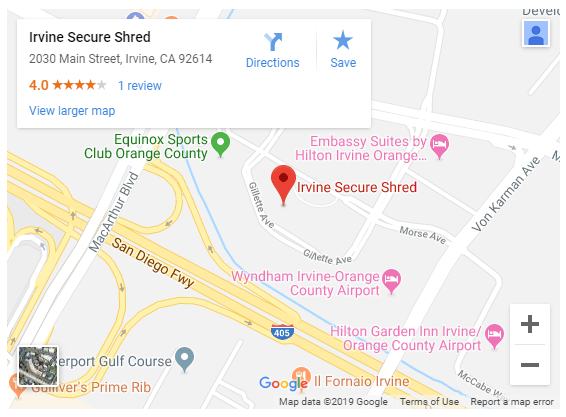 Get FREE Quotes on Shredding Services in Irvine Today!
Shredding Services in Irvine
Our contractors also offer flexible scheduling options for your one-time or ongoing needs:

Ongoing Service: Daily, weekly, or monthly scheduled shredding services. Secure, locking shred cabinets are provided free of charge.
One-time Purge Service: Annual, one-time, or occasional shredding. Costs are based on volume to be shredded.
What Our Customers Are Saying:

Shredding Made Easy


This is the best way to shred. They come out in their big truck. Shred Everything. Then recycle all the paper. We use them every year for our annual clean out.